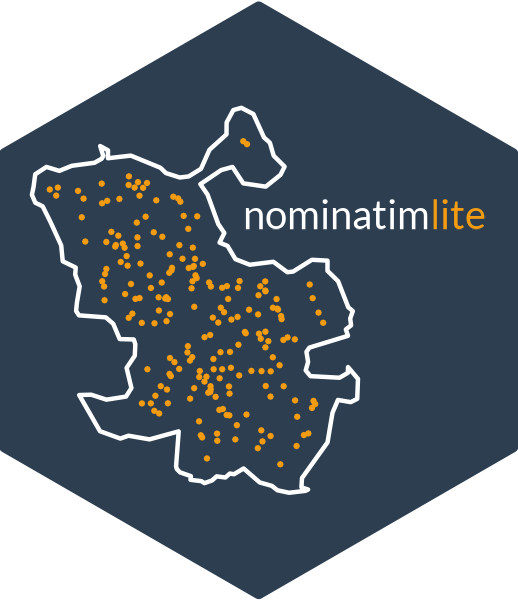 Reverse geocode coordinates
Source:
R/reverse_geo_lite.R
reverse_geo_lite.Rd
Reverse geocodes geographic coordinates (latitude and longitude) given as numeric values. Latitudes must be between -90 and 90 and longitudes must be between -180 and 180.
Usage
reverse_geo_lite

(


  

lat

,
  

long

,
  address 

=

 

"address"

,
  full_results 

=

 

FALSE

,
  return_coords 

=

 

TRUE

,
  verbose 

=

 

FALSE

,
  custom_query 

=

 list

(

)




)
Arguments
lat

latitude values (input data)

long

longitude values (input data)

address

name of the address column (in the output data)

full_results

returns all available data from the geocoding service if TRUE. If FALSE (default) then only a single address column is returned from the geocoding service.

return_coords

return input coordinates with results if TRUE. Note that most services return the input coordinates with full_results = TRUE and setting return_coords to FALSE does not prevent this.

verbose

if TRUE then detailed logs are output to the console. FALSE is default. Can be set permanently with options(tidygeocoder.verbose = TRUE)

custom_query

API-specific parameters to be used, passed as a named list (ie. list(zoom = 3)). See Details.
Details
See https://nominatim.org/release-docs/develop/api/Reverse/ for additional parameters to be passed to custom_query.
Use the option custom_query = list(zoom = 3) to adjust the output. Some equivalences on terms of zoom:
| | |
| --- | --- |
| zoom | address_detail |
| 3 | country |
| 5 | state |
| 8 | county |
| 10 | city |
| 14 | suburb |
| 16 | major streets |
| 17 | major and minor streets |
| 18 | building |
Examples
# \donttest{







reverse_geo_lite

(

lat 

=

 

40.75728

, long 

=

 

-

73.98586

)




#>

 

# A tibble: 1 × 3




#>

   address                                                              lat   lon


#>

   

<chr>

                                                              

<dbl>

 

<dbl>




#>

 

1

 Times Square, Broadway, Theater District, Manhattan Community Boa…  40.8 -

74.0







# Several coordinates




reverse_geo_lite

(


  lat 

=

 c

(

40.75728

, 

55.95335

)

,
  long 

=

 c

(

-

73.98586

, 

-

3.188375

)




)




#>

 

# A tibble: 2 × 3




#>

   address                                                             lat    lon


#>

   

<chr>

                                                             

<dbl>

  

<dbl>




#>

 

1

 Times Square, Broadway, Theater District, Manhattan Community Bo…  40.8 -

74.0

 


#>

 

2

 Waverley Gate, North Bridge, Old Town, Edinburgh, City of Edinbu…  56.0  -

3.19







# With options: zoom to country




reverse_geo_lite

(


  lat 

=

 c

(

40.75728

, 

55.95335

)

,
  long 

=

 c

(

-

73.98586

, 

-

3.188375

)

,
  custom_query 

=

 list

(

zoom 

=

 

0

)

,
  verbose 

=

 

TRUE

,
  full_results 

=

 

TRUE




)




#>

 

# A tibble: 2 × 10




#>

   address      lat     lon place_id licence osm_type osm_id country country_code


#>

   

<chr>

      

<dbl>

   

<dbl>

    

<int>

 

<chr>

   

<chr>

     

<int>

 

<chr>

   

<chr>

       


#>

 

1

 United St…  39.8 -

100.

     2.82

e

8 Data ©… relation 

148

838 United… us          


#>

 

2

 United Ki…  54.7   -

3.28

   2.82

e

8 Data ©… relation  

62

149 United… gb          


#>

 

# … with 1 more variable: boundingbox <list>




# }