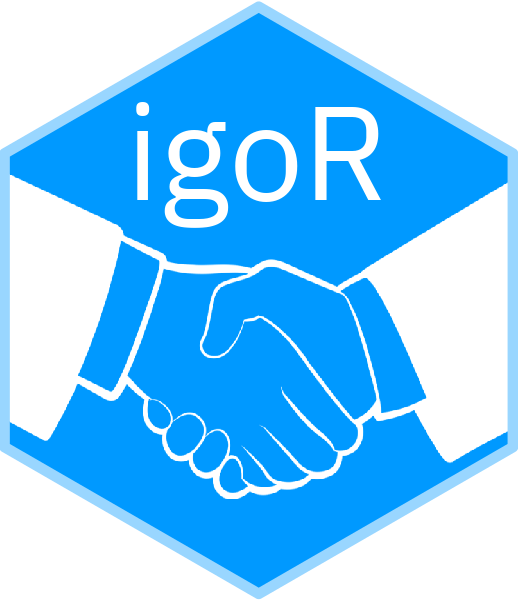 Search and Find an IGO
Source:
R/igo_search.R
igo_search.Rd
Search any IGO by name or string pattern.
Arguments
pattern

regex pattern. If NULL the function returns a dataset with all the IGOs on igo_year_format3. Integer values are accepted.

exact

Logical. When TRUE only exact matches are returned.
Details
The information of each IGO is retrieved based on the last year available on igo_year_format3.
An additional column label is provided. This column is a clean version of longorgname
Examples
# All values




all

 

<-

 

igo_search

(

)





nrow

(

all

)




#>

 [1] 534
colnames

(

all

)




#>

  [1] "ionum"                            "ioname"                          


#>

  [3] "orgname"                          "longorgname"                     


#>

  [5] "label"                            "sdate"                           


#>

  [7] "deaddate"                         "dead"                            


#>

  [9] "integrated"                       "replaced"                        


#>

 [11] "igocode"                          "version"                         


#>

 [13] "accuracyofpre1965membershipdates" "sourcesandnotes"                 


#>

 [15] "imputed"                          "political"                       


#>

 [17] "social"                           "economic"                        





# Search by pattern




igo_search

(

"EU"

)

[

, 

1

:

3

]




#>

    ionum      ioname                                               orgname


#>

 1    680    ABEPSEAC      Assoc. B/t EEC and States of East Afr. Community


#>

 2     10       ACPEU                                 ACP/EU Joint Assembly


#>

 3    150        APPA                    African Petroleum Producers Assoc.


#>

 4    540        ASEF                                Asia-Europe Foundation


#>

 5   1020       CEEPN          Central & Eastern Eur. Privatization Network


#>

 6   1070       CEFTA                                    Central Europe FTA


#>

 7   1080         CEI                           Central European Initiative


#>

 8   1720        CERN                     European Org for Nuclear Research


#>

 9   1390         COE                                     Council of Europe


#>

 10  1300    CONFEJES          Conference des Ministres jeunesse...Francais


#>

 11  1095        CPAB                         Central PanAm Bureau Eugenics


#>

 12  1545        EAEC                           Eurasian Economic Community


#>

 13  1550        EAPC                     Euro-Atlantic Partnership Council


#>

 14  1540        EAPO                                  Eurasian Patent Org.


#>

 15  1570        EBRD        European Bank for Reconstruction & Development


#>

 16  1580         ECB                                 European Central Bank


#>

 17  1610        ECCD                       Euro Comm for Control of Danube


#>

 18  1620      ECCPIF                 Euro Company Chem Process Irrad Fuels


#>

 19  1640       ECPTA                        Euro Conf Postal Telecom Admin


#>

 20  1585        ECSC                       European Coal & Steel Community


#>

 21  1653         EEC                           European Economic Community


#>

 22  1645        EFCC                                Euro Food Code Council


#>

 23  1660      EFILWC Eur. Foundation for Impr. of Living & Work Conditions


#>

 24  1670        EFTA                                  Euro Free Trade Assn


#>

 25  1690         EIB                                  Euro Investment Bank


#>

 26  1675         EIP                           European Institute of Peace


#>

 27  1680        EIPA                     Europ. Institute of Public Admin.


#>

 28  1810        ELDO                   Euro Space Vehicle Launcher Dev Org


#>

 29  1700        EMBC                 European Molecular Biology Conference


#>

 30  1710        EMBL                              Eur. Molecular Biol. Lab


#>

 31  1715         EMI                           European Monetary Institute


#>

 32  1560       EMPPO                          Euro & Med Plant Protect Org


#>

 33  1770         EPA                              Euro Productivity Agency


#>

 34  1760       EPFSC                 Euro. Postal Financial Services Comm.


#>

 35  1740         EPO                          European Patent Organization


#>

 36  1750         EPU                               European Payments Union


#>

 37  1790         ESA                                 European Space Agency


#>

 38  1780         ESO                         European Southern Observatory


#>

 39  1800        ESRO                               Euro Space Research Org


#>

 40  1820         ETF                          European Training Foundation


#>

 41  1830          EU                                        European Union


#>

 42  1600       EUFMD              Euro Comm for Control Foot-Mouth Disease


#>

 43  1563     EURAMET  European Association of National Metrology Institute


#>

 44  1565     EURATOM                         European Atomic Energy Agency


#>

 45  1730 EUROCONTROL                             Euro Org Safety Air Navig


#>

 46  1630    EUROFIMA           Euro Comp for Finance Railway Rolling Stock


#>

 47  1590     EUROMET       European Collaboration on Measurement Standards


#>

 48  2250       IOMig                                Intl Org for Migration


#>

 49  3800       OAPEC                 Org. Arab Petroleum Export. Countries


#>

 50  3762        OEEC                        Org for European Economic Coop


#>

 51  3840        OPEC                  Org of Petroleum Exporting Countries


#>

 52  3770        OSCE                      Org. Security Cooperation Europe


#>

 53  4000         PED                          Pole European de Development


#>

 54  1650         WCO                                     World Customs Org


#>

 55  4510         WEU                                Western European Union





igo_search

(

"EU"

, exact 

=

 

TRUE

)

[

, 

1

:

3

]




#>

   ionum ioname        orgname


#>

 1  1830     EU European Union





# With integers




igo_search

(

10

)

[

, 

1

:

3

]




#>

    ionum   ioname                                               orgname


#>

 1    710    AATPO                  Assoc. of Afr. Trade Promotion Orgs.


#>

 2     10    ACPEU                                 ACP/EU Joint Assembly


#>

 3    100    AFGEC                     Afr. Fund Guarantee & Econ. Coop.


#>

 4    410     AFTE                   Arab Federation for Technical Educ.


#>

 5    110      AGC                             African Groundnut Council


#>

 6    510     AOMR                       Arab Org. for Mineral Resources


#>

 7    610      ARC                               Asian Reinsurance Corp.


#>

 8    210      ATO                                   African Timber Org.


#>

 9    310     AmCC                               Amazonian Coop. Council


#>

 10   810      BIS                    Bank for International Settlements


#>

 11  3810     BSEC                            Black Sea Economic Council


#>

 12  1030    CAECC                Central Asian Cooperation Organization


#>

 13  1310   CAMRSD       Conf. African Ministers for Sustain Development


#>

 14  1000    CAMSF                          Cent. Am Monetary Stab. Fund


#>

 15  1010    CARII      Central American Research Institute for Industry


#>

 16  1040      CBI                      Centrl Bureau: Intl Map of World


#>

 17  1050     CCNR    Central Commission for the Navigation of the Rhine


#>

 18  1060     CCOM                    Cent. Compensation Off. of Maghreb


#>

 19  1210      CEC                       Commonwealth Economic Committee


#>

 20  1020    CEEPN          Central & Eastern Eur. Privatization Network


#>

 21  1070    CEFTA                                    Central Europe FTA


#>

 22  1080      CEI                           Central European Initiative


#>

 23  1100    CENTO                           Central Treaty Organization


#>

 24  1510    CEPGL              Economic Community of Great Lakes States


#>

 25   910    CFATF                      Caribbean Fin. Action Task Force


#>

 26  1410   CMHASG         Council of Min. of Health of Arab Gulf States


#>

 27  1095     CPAB                         Central PanAm Bureau Eugenics


#>

 28  1610     ECCD                       Euro Comm for Control of Danube


#>

 29  1810     ELDO                   Euro Space Vehicle Launcher Dev Org


#>

 30  1710     EMBL                              Eur. Molecular Biol. Lab


#>

 31  1910      G15                                           Group of 15


#>

 32  2010    HCPIL                        Hague Conf on Private Intl Law


#>

 33  2110     IACI                            Inter-Am Children's Instit


#>

 34  2100     IARA                        Inter Allied Reparation Agency


#>

 35  2105    IARHC                      Inter Allied Rhineland High Comm


#>

 36  2210    IATTC                           Inter-Am Tropical Tuna Comm


#>

 37  2410      IBA                                  Int'l Bauxite Assoc.


#>

 38  2610   ICCSLT                       Intl Comm of Cape Spartel Light


#>

 39  2510   ICivDO                              Int'l Civil Defence Org.


#>

 40  2710      IEA                                    Intl Energy Agency


#>

 41  2810      IIF                          Intl Instit of Refrigeration


#>

 42  1110   INFSMK                                             InfoSAMAK


#>

 43  2910     INSG                              Int'l Nickel Study Group


#>

 44  3010    IPhyL                                Intl Physiological Lab


#>

 45  3100      ISA                                Int'l Seabed Authority


#>

 46  3310  ISHREST     Inter-State School for Hydraulic & Rural Engin...


#>

 47  3110    ISUPT                     Intl Sec for Unification Pharmaco


#>

 48  2310    ITVRC                                Intgvt TV & Radio Corp


#>

 49  3210   IUPLAW          Intl Union for Protection of Lit & Art Works


#>

 50  3410     LAEO                            Latin American Energy Org.


#>

 51  3510  MCWCASM Minist Conf of West & Cent African States on Maritime


#>

 52  3610     NCTR                       Nordic Council for Tax Research


#>

 53  3710    NPFSC                           North Pacific Fur Seal Comm


#>

 54  1090     OTIF             Central Office for Intl Railway Transport


#>

 55  3910       PC                                      Paris Commission


#>

 56  4010   PMAESA            Port Management Assoc. of E. and S. Africa


#>

 57  4100 RIOgroup                                             Rio Group


#>

 58  4110     SCAf                             Scientific Council in SSA


#>

 59  4210    SEATO                    Southeast Asia Treaty Organization


#>

 60  4410   UNESCO              UN Education, Scientific, & Cultural Org


#>

 61  4450    VASAB                 Vision & Strategies Around Baltic Sea


#>

 62  4510      WEU                                Western European Union





igo_search

(

10

, exact 

=

 

TRUE

)

[

, 

1

:

3

]




#>

   ionum ioname               orgname


#>

 1    10  ACPEU ACP/EU Joint Assembly





# Several patterns (regex style)




igo_search

(

"NAFTA|UN|EU"

)

[

, 

1

:

3

]




#>

     ionum      ioname


#>

 1     680    ABEPSEAC


#>

 2     400         ACC


#>

 3      10       ACPEU


#>

 4     570         ACU


#>

 5     420       AFESD


#>

 6     100       AFGEC


#>

 7     160        AFPU


#>

 8      90      AFRAND


#>

 9     725       AFSPC


#>

 10    110         AGC


#>

 11    430     AGPUNDO


#>

 12    590        AIDC


#>

 13    730       AIOEC


#>

 14    125       AMCOW


#>

 15    490         AMF


#>

 16    250       AMPTU


#>

 17     40        AMSC


#>

 18    470         AMU


#>

 19    360       ANZUS


#>

 20    640        AOPU


#>

 21    550        APCC


#>

 22   2060       APFIC


#>

 23    150        APPA


#>

 24    670         APT


#>

 25    155        APTU


#>

 26    520        ARPU


#>

 27    740   ASCRubber


#>

 28    540        ASEF


#>

 29    560       ASPAC


#>

 30    770        ATPC


#>

 31   3761          AU


#>

 32    310        AmCC


#>

 33    330      Andean


#>

 34   2770     AralSea


#>

 35    530      ArticC


#>

 36    780          BC


#>

 37    870        BCSC


#>

 38    840     BENELUX


#>

 39   3810        BSEC


#>

 40   1180       CAARC


#>

 41   1030       CAECC


#>

 42     30       CAMES


#>

 43   1000       CAMSF


#>

 44    880     CARICOM


#>

 45   1200        CATC


#>

 46   1420        CBSS


#>

 47   4485        CEAO


#>

 48   1020       CEEPN


#>

 49   1070       CEFTA


#>

 50   1080         CEI


#>

 51   1260       CEMAC


#>

 52   1510       CEPGL


#>

 53   1720        CERN


#>

 54   1160         CFC


#>

 55   1400       CMAEC


#>

 56   1370        CMEA


#>

 57   1410      CMHASG


#>

 58   1390         COE


#>

 59   1380     COLOMBO


#>

 60   1300    CONFEJES


#>

 61   1340      COPTAC


#>

 62   1095        CPAB


#>

 63   1270        CPSC


#>

 64    920         CPU


#>

 65   1250         CTO


#>

 66    900         CXC


#>

 67   4120         EAC


#>

 68   1545        EAEC


#>

 69   1550        EAPC


#>

 70   1540        EAPO


#>

 71   1570        EBRD


#>

 72   1580         ECB


#>

 73   1500       ECCAS


#>

 74   1610        ECCD


#>

 75   1620      ECCPIF


#>

 76   1520      ECOWAS


#>

 77   1640       ECPTA


#>

 78   1585        ECSC


#>

 79   1653         EEC


#>

 80   1645        EFCC


#>

 81   1660      EFILWC


#>

 82   1670        EFTA


#>

 83   1690         EIB


#>

 84   1675         EIP


#>

 85   1680        EIPA


#>

 86   1810        ELDO


#>

 87   1700        EMBC


#>

 88   1710        EMBL


#>

 89   1715         EMI


#>

 90   1560       EMPPO


#>

 91   1770         EPA


#>

 92   1760       EPFSC


#>

 93   1740         EPO


#>

 94   1750         EPU


#>

 95   1790         ESA


#>

 96   1780         ESO


#>

 97   1800        ESRO


#>

 98   1820         ETF


#>

 99   1830          EU


#>

 100  1600       EUFMD


#>

 101  1563     EURAMET


#>

 102  1565     EURATOM


#>

 103  1730 EUROCONTROL


#>

 104  1630    EUROFIMA


#>

 105  1590     EUROMET


#>

 106  1430     Entente


#>

 107  1860     FDIPLAC


#>

 108  1990         GCC


#>

 109  1980      GCRSNC


#>

 110  1900         GEF


#>

 111  1920     GLACSEC


#>

 112  2340       IATSJ


#>

 113  2210       IATTC


#>

 114  2280       ICCEC


#>

 115  2690        ICES


#>

 116  2650       ICPTU


#>

 117  2260      ICRPBC


#>

 118  2760        IFAD


#>

 119  3260         IGC


#>

 120  2880         IMF


#>

 121  3170    INTELSAT


#>

 122  2250       IOMig


#>

 123  2960        IOOC


#>

 124  2950       IOPCF


#>

 125  3000         IPC


#>

 126  3070         IRU


#>

 127  3110       ISUPT


#>

 128  3130        ISuC


#>

 129  3180         ITC


#>

 130  3160         ITU


#>

 131  2315        IUIC


#>

 132  3220       IUPCT


#>

 133  3200       IUPIP


#>

 134  3210      IUPLAW


#>

 135  4360      IUPNVP


#>

 136  3230        IUPR


#>

 137  3400       LAIEC


#>

 138  3440       LATIN


#>

 139  3520      MCPTTC


#>

 140  3480         MRU


#>

 141  3530    Montreal


#>

 142  3670       NAFTA


#>

 143  3620         NCM


#>

 144  3600        NCRR


#>

 145  3610        NCTR


#>

 146  3630         NDF


#>

 147  3640        NERC


#>

 148  3660        NTSC


#>

 149  3665        NWHF


#>

 150  3590       NordC


#>

 151  3800       OAPEC


#>

 152  3900         OAS


#>

 153  3760         OAU


#>

 154   260        OCAM


#>

 155  3762        OEEC


#>

 156  3840        OPEC


#>

 157  3770        OSCE


#>

 158  3905        PAPU


#>

 159  4000         PED


#>

 160  4020       PUASP


#>

 161  4050      RASCOM


#>

 162  4080      RCAELA


#>

 163  4075         RCC


#>

 164  4060        RCFC


#>

 165  4040      RadioU


#>

 166  4270       SAAFA


#>

 167  4240        SACU


#>

 168  4250        SADC


#>

 169  4230       SARTC


#>

 170  4110        SCAf


#>

 171  4300         SCH


#>

 172  4150       SWAPU


#>

 173  4290        SugU


#>

 174  4380        UASC


#>

 175  4370        UBEC


#>

 176   940       UDEAC


#>

 177  4340       UEMOA


#>

 178  4350       UIUCV


#>

 179  4390       UKDWD


#>

 180  4375          UM


#>

 181  4365        UMAC


#>

 182  4503        UMOA


#>

 183  4400          UN


#>

 184  4410      UNESCO


#>

 185  4420       UNIDO


#>

 186  2790    UNIDROIT


#>

 187  4430         UPU


#>

 188  4440         USP


#>

 189  1940    VALDIVIA


#>

 190  4450       VASAB


#>

 191  4490        WAEC


#>

 192  4500        WAHC


#>

 193  4540        WCDC


#>

 194  1650         WCO


#>

 195  4510         WEU


#>

 196  4520         WNF


#>

                                                             orgname


#>

 1                  Assoc. B/t EEC and States of East Afr. Community


#>

 2                                          Arab Cooperation Council


#>

 3                                             ACP/EU Joint Assembly


#>

 4                                              Asian Clearing Union


#>

 5                         Arab Fund for Social/Economic Development


#>

 6                                 Afr. Fund Guarantee & Econ. Coop.


#>

 7                                              African Postal Union


#>

 8                                         Afr. Foundation for R & D


#>

 9         Association of Financial Supervisors of Pacific Countries


#>

 10                                        African Groundnut Council


#>

 11                                 Arab Gulf Prog. for UN Dev. Org.


#>

 12                                Asian Industrial Develop. Council


#>

 13                                  Assoc. Iron Ore Expt. Countries


#>

 14                              African Ministers' Council on Water


#>

 15                                               Arab Monetary Fund


#>

 16                          Afro-Malagasy Postal and Telecomm Union


#>

 17                                    African/Malgasy Sugar Council


#>

 18                                               Arab Maghreb Union


#>

 19                      Australia-NewZealand-US Treaty Organization


#>

 20                                       Asian-Oceanic Postal Union


#>

 21                                      Asian/Pacific Coconut Comm.


#>

 22                                      Asia Pacific Fisheries Comm


#>

 23                               African Petroleum Producers Assoc.


#>

 24                                      Asian-Pacific Telecommunity


#>

 25                                 African Postal and Telecom Union


#>

 26                                                Arab Postal Union


#>

 27                           Association of Rubber Producing States


#>

 28                                           Asia-Europe Foundation


#>

 29                                           Asia & Pacific Council


#>

 30                                   Assoc. Tin Producing Countries


#>

 31                                                    African Union


#>

 32                                          Amazonian Coop. Council


#>

 33                                                 Andean Community


#>

 34                                   Int'l Fund for Saving Aral Sea


#>

 35                                                   Arctic Council


#>

 36                                                   Baltic Council


#>

 37                             British Commonwealth Scientific Comm


#>

 38                                                Benelux Community


#>

 39                                       Black Sea Economic Council


#>

 40                       Commonwealth Advis. Aero. Research Council


#>

 41                           Central Asian Cooperation Organization


#>

 42                           Afr. & Malagasy Council for Higher Ed.


#>

 43                                     Cent. Am Monetary Stab. Fund


#>

 44                                              Caribbean Community


#>

 45                               Commonwealth Air Transport Council


#>

 46                                     Council of Baltic Sea States


#>

 47                                  West African Economic Community


#>

 48                     Central & Eastern Eur. Privatization Network


#>

 49                                               Central Europe FTA


#>

 50                                      Central European Initiative


#>

 51                        Central African Economic & Monetary Union


#>

 52                         Economic Community of Great Lakes States


#>

 53                                European Org for Nuclear Research


#>

 54                                      Common Fund for Commodities


#>

 55                                Council of Min. Asian Econ. Coop.


#>

 56                                  Council for Mutual Economic Aid


#>

 57                    Council of Min. of Health of Arab Gulf States


#>

 58                                                Council of Europe


#>

 59                             Council for Tech Coop in S & SE Asia


#>

 60                     Conference des Ministres jeunesse...Francais


#>

 61           Conf. of Posts & Telecommunications  of Central Africa


#>

 62                                    Central PanAm Bureau Eugenics


#>

 63                                Comm Portugese Speaking Countries


#>

 64                                           Caribbean Postal Union


#>

 65                                       Commonwealth Telecom Board


#>

 66                                     Caribb. Examinations Council


#>

 67                                           East African Community


#>

 68                                      Eurasian Economic Community


#>

 69                                Euro-Atlantic Partnership Council


#>

 70                                             Eurasian Patent Org.


#>

 71                   European Bank for Reconstruction & Development


#>

 72                                            European Central Bank


#>

 73                     Economic Community of Central African States


#>

 74                                  Euro Comm for Control of Danube


#>

 75                            Euro Company Chem Process Irrad Fuels


#>

 76                        Economic Community of West African States


#>

 77                                   Euro Conf Postal Telecom Admin


#>

 78                                  European Coal & Steel Community


#>

 79                                      European Economic Community


#>

 80                                           Euro Food Code Council


#>

 81            Eur. Foundation for Impr. of Living & Work Conditions


#>

 82                                             Euro Free Trade Assn


#>

 83                                             Euro Investment Bank


#>

 84                                      European Institute of Peace


#>

 85                                Europ. Institute of Public Admin.


#>

 86                              Euro Space Vehicle Launcher Dev Org


#>

 87                            European Molecular Biology Conference


#>

 88                                         Eur. Molecular Biol. Lab


#>

 89                                      European Monetary Institute


#>

 90                                     Euro & Med Plant Protect Org


#>

 91                                         Euro Productivity Agency


#>

 92                            Euro. Postal Financial Services Comm.


#>

 93                                     European Patent Organization


#>

 94                                          European Payments Union


#>

 95                                            European Space Agency


#>

 96                                    European Southern Observatory


#>

 97                                          Euro Space Research Org


#>

 98                                     European Training Foundation


#>

 99                                                   European Union


#>

 100                        Euro Comm for Control Foot-Mouth Disease


#>

 101            European Association of National Metrology Institute


#>

 102                                   European Atomic Energy Agency


#>

 103                                       Euro Org Safety Air Navig


#>

 104                     Euro Comp for Finance Railway Rolling Stock


#>

 105                 European Collaboration on Measurement Standards


#>

 106                                                 Entente Council


#>

 107                    Fund 4 Devel. of Indigen Peoples of LA/Carib


#>

 108                                        Gulf Cooperation Council


#>

 109                  Guidance Comm. for Road Safety in Nordic Cntry


#>

 110                                            Global Environ. Fund


#>

 111                      Group of L/A & Carib. Sugar Exp. Countries


#>

 112                               Intl Arbitration Trib at San Jose


#>

 113                                     Inter-Am Tropical Tuna Comm


#>

 114                         Intgvt Council of Copper Exp. Countries


#>

 115                             Intl Council for Exploration of Sea


#>

 116                            Intl Conf Promoting Tech Unification


#>

 117                    Intergov. Committee of the River Plate Basin


#>

 118                          Int Fund for Agriculture & Development


#>

 119                                             Intl Grains Council


#>

 120                                              Intl Monetary Fund


#>

 121                                  Int'l Telecomm. Satellite Org.


#>

 122                                          Intl Org for Migration


#>

 123                                          Intl Olive Oil Council


#>

 124                              Int'l Oil Pollution Compens. Funds


#>

 125                                          Int'l Pepper Community


#>

 126                                               Intl Relief Union


#>

 127                               Intl Sec for Unification Pharmaco


#>

 128                                              Intl Sugar Council


#>

 129                                                Intl Tin Council


#>

 130                                              Intl Telecom Union


#>

 131                     Intergovernmental University of Cooperation


#>

 132                       Intl Union Publication of Customs Tariffs


#>

 133 Intl Union for Protection of Industrial Prop (Paris Convention)


#>

 134                    Intl Union for Protection of Lit & Art Works


#>

 135                 Union for Protection of New Varieties of Plants


#>

 136                                             Intl Union of Pruth


#>

 137           Latin American Institute of Educational Communication


#>

 138                                                     Latin Union


#>

 139                 Multi-Country Posts & Telecomm. Training Center


#>

 140                                                Mano River Union


#>

 141      Multilat. Fund for the Implement. of the Montreal Protocol


#>

 142                                              North American FTA


#>

 143                                     Nordic Council of Ministers


#>

 144                                 Nord. Council for Reindeer Res.


#>

 145                                 Nordic Council for Tax Research


#>

 146                                         Nordic Development Fund


#>

 147                                        Nordic Econ Res. Council


#>

 148                               Nordic Telcomm. Satellite Council


#>

 149                                Nordic World Heritage Foundation


#>

 150                                                  Nordic Council


#>

 151                           Org. Arab Petroleum Export. Countries


#>

 152                                   Pan-Am Union/Org of Am States


#>

 153                                           Org for African Unity


#>

 154                               Common Afro-Malagasy Economic Org


#>

 155                                  Org for European Economic Coop


#>

 156                            Org of Petroleum Exporting Countries


#>

 157                                Org. Security Cooperation Europe


#>

 158                                        Pan African Postal Union


#>

 159                                    Pole European de Development


#>

 160                                 Postal Union of Am, Spain, Port


#>

 161                                  Reg. Afr. Satellite Comm. Org.


#>

 162               Reg. Council for Adult Educ. & Literacy in Africa


#>

 163                                    Regional Cooperation Council


#>

 164                           Reg Commonwealth in the Field of Comm


#>

 165                                            Radiotelegraph Union


#>

 166                                Special Arab Aid Fund for Africa


#>

 167                                             Southern African CU


#>

 168                                 Southern African Dev. Community


#>

 169                          South African Regional Tourism Council


#>

 170                                       Scientific Council in SSA


#>

 171                                      Superior Council of Health


#>

 172                                  South & West Asia Postal Union


#>

 173                                                     Sugar Union


#>

 174                                        United Arab Shipping Co.


#>

 175                             Union of Banana Exporting Countries


#>

 176                        Central African Customs & Economic Union


#>

 177                          West African Economic & Monetary Union


#>

 178                          Union for Intl Use of Carriages & Vans


#>

 179                                      UK Dominion Wool Disposals


#>

 180                                     Union for the Mediterranean


#>

 181                                  Central African Monetary Union


#>

 182                                     West African Monetary Union


#>

 183                                                  United Nations


#>

 184                        UN Education, Scientific, & Cultural Org


#>

 185                                   UN Industrial Development Org


#>

 186                      Intl Instit for Unification of Private Law


#>

 187                                          Universal Postal Union


#>

 188                                          Univ. of South Pacific


#>

 189                           Group of S. Hemisp. Countries on Env.


#>

 190                           Vision & Strategies Around Baltic Sea


#>

 191                                  West Afr. Examinations Council


#>

 192                                   West African Health Community


#>

 193                           Working Community of Danube Countries


#>

 194                                               World Customs Org


#>

 195                                          Western European Union


#>

 196                                                West Nordic Fund





# Several patterns Exact (regex style)




igo_search

(

"^NAFTA$|^UN$|^EU$"

)

[

, 

1

:

3

]




#>

   ionum ioname            orgname


#>

 1  1830     EU     European Union


#>

 2  3670  NAFTA North American FTA


#>

 3  4400     UN     United Nations