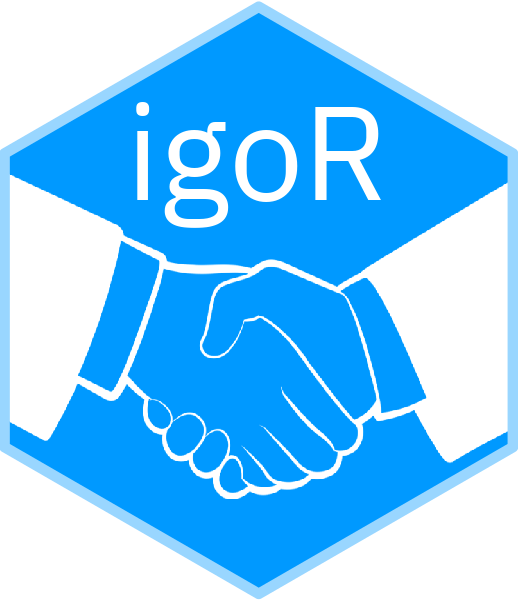 Get started with the igoR package
Diego Hernangómez
Source:
vignettes/igoR.Rmd
igoR.Rmd
This vignette is meant to provide useRs with an visual, explorable introduction to the capabilities of the igoR package.
The analysis would be based on those provided on (J. C. Pevehouse et al. 2020). For more information on the IGO data sets and additional downloads, see Intergovernmental Organizations (v3).
Note that the dyadic dataset is not provided in the package, due its size (~500 MB on Stata .dta format). However, igo_dyadic() function provides similar results.
Definitions
From J. Pevehouse, McManus, and Nordstrom (2019):
What is an IGO?
The definition of an Intergovernmental Organization (IGO) on the original dataset is based on the following criteria:
An IGO must consist of at least three members of the COW-defined state system.

An IGO must hold regular plenary sessions at least once every ten years

An IGO must possess a permanent secretariat and corresponding headquarters.
When does an IGO actually begin?
The data sets begins to code an IGO by identifying the first year in which the organization functions. In some cases, individual members are listed by year of accession or signature.
Analysis
This section provides some quick analysis based on the figures of J. C. Pevehouse et al. (2020).
References
Pevehouse, Jon CW, Timothy Nordstrom, Roseanne W McManus, and Anne Spencer Jamison. 2020.
"Tracking Organizations in the World: The Correlates of War IGO Version 3.0 Datasets."
Journal of Peace Research
57 (3): 492–503.